Did you miss our Father's Day Facebook Live with Dr. Joel Schlessinger?
Watch out ladies, men are getting CoolSculpting®, too! We were lucky enough to see two COOL dudes fight stubborn fat this Father's Day with the nonsurgical, fat reduction treatment, CoolSculpting®. Noah and Flip spent their June afternoon freezing away stubborn fat on 2 of our 9 FDA-cleared treatment areas - the abdomen and the submental area.
Dr. Joel Schlessinger and his team at Lovely Skin show us the ins and outs of the treatment, while answering some of your most frequently asked questions! With over 7 million treatments performed in over 80 different countries, take a closer look at the fat-reduction treatment EVERYONE has been talking about.
Can the CoolSculpting® Treatment Reduce Fat Anywhere On My Body?
There's something for everyone! CoolSculpting® is cleared to treat 9 different areas: the abdomen, flanks, banana roll, thighs, bra fat, upper arms, back, the submental (double chin) and the submandibular areas (below the jawline). Dr. Joel Schlessinger says that often times his patients are so happy with their results in one area, they come come back for more. Now that's COOL!
"People come back for more treatments because they had such a great experience."

- Dr. Joel Schlessinger
I Don't Like My Double Chin. Can The CoolSculpting® Treatment Help Me Lose It?
We've got some COOL news ... There are now even more benefits to treating your double chin with CoolSculpting®. Not only can you reduce fat beneath the chin, but you can also improve the appearance of lax tissue in the treated submental area. With each CoolSculpting® treatment, you can lose up to 20% - 25% of the fat in the treated area.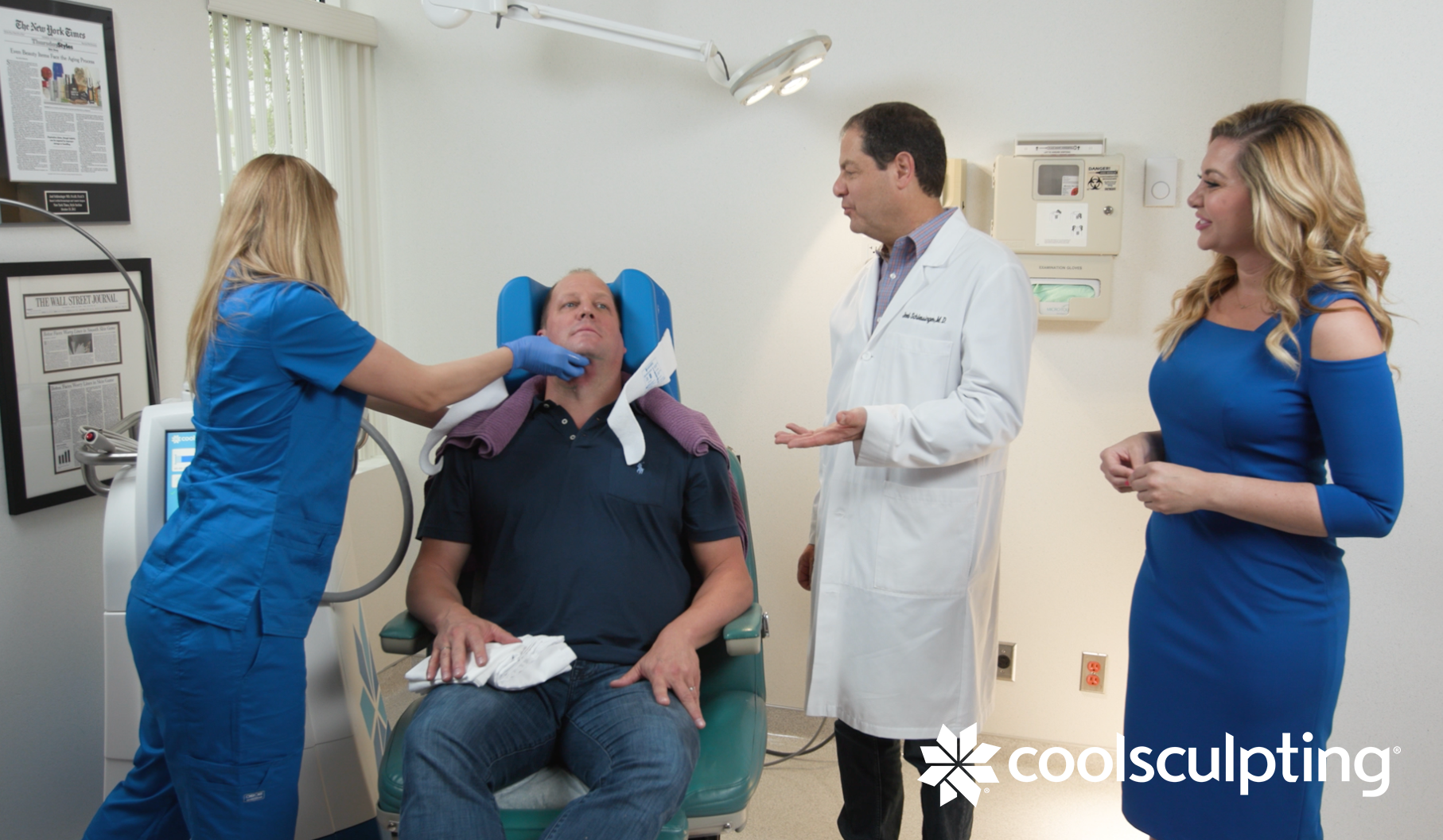 What Happens To The Skin, Nerves And Muscles Near The Treated Area?
CoolSculpting® uses a unique technology called cryolipolysis. This technology enables precise cooling and provides safety by only affecting fat cells while sparing skin, nerves, and muscle. Dr. Joel Schlessinger explains that the fat in our body freezes at a warmer temperature than the rest of our body. This allows for targeted freezing of the fat cells and optimal results.
"[CoolSculpting] is something that people are excited to have done…"

- Dr. Joel Schlessinger
Is The Treated Fat Gone For Good?
The CoolSculpting® technology is really something amazing in that once the treated fat is gone, it's gone for good. Keep in mind, however, CoolSculpting® is not a weight loss treatment; it is a fat reduction treatment. The CoolSculpting® procedure reduces the number of fat cells in the treated area, and your remaining fat cells still function as normal, being subject to getting bigger or smaller depending on weight gain or loss.

How Do I Get Started With CoolSculpting®?
Getting started on your CoolSculpting® journey is as easy as 1, 2, FREEZE! First, take our short quiz to see if the CoolSculpting® treatment is right for you. The next step is to meet with one our COOL providers to come up with a personalized treatment plan that caters to your goals and expectations. You can locate a provider, here. The final step is to FREEZE those pesky bulges away with CoolSculpting®!

Have more questions? Check out some of our other blogs to learn more about how it works, the pricing, safety information and much, much more!

*Subject to credit approval. No prepayment penalty. Minimum monthly payments required during the promotional period ("promo"). Making minimum monthly payments during the promo will not pay off entire principal balance. Interest is billed
during the promo, but all interest is waived if the principal balance is paid in full before the end of the promo. Payment amounts assume full credit limit is spent immediately following approval. Fixed APR of 26.99%. For each $1000 financed, 12 payments of
$22.50 followed by 54 amortized payments of $32.17. Recommended payment of $300 per month for 12 months is an estimate of monthly payment to pay principal balance for a purchase price of $3600 in full before the expiration of the promo. Allergan is not responsible
for any aspect of the patient financing. All questions about the financing terms should be directed to GreenSky Patient Solutions®.
GreenSky Patient Solutions® Loan Program financing is provided by participating lenders that are federally insured, federal and state-chartered financial institutions providing credit without regard to age, race, color, religion, national
origin, gender, or familial status. GreenSky, LLC and its wholly owned subsidiaries service the loans on behalf of participating lenders. NMLS #1416362. GreenSky Patient Solutions® is a registered trademark of GreenSky, LLC. All rights reserved.