A Moose Sized Joke
Many of us have done some pretty crazy things to try to lose that last bit of stubborn belly fat — some going to extreme lengths for a solution. Well... we decided to take that notion of "going to extremes" and have a bit of fun with it.
We launched a practical joke, directing people to schedule a fat-reducing massage — performed by a moose (you read that right, a moose) — on MooseSpa.com!
To pull off this prank — designed to raise hype and awareness around our #COOLnotcool campaign — we started by choosing the most appropriate day of the year to share it: April Fools' Day, 2018. Check out what we aired on TV. Yes, we actually took this joke to the airwaves!
How It Went Down
To truly engage our audience in a very surprising way, on April 1st, we flooded the internet, social media, and network television with a 15-second commercial and corresponding ads touting the fat-loss "miracle" known as, "The Northern Percussion Massage." Sounds legit, right? Well it's not. At all. It's 0% real.
"The Northern Percussion Massage" involves a 1,200 pound moose, named Moosy Moelleux. The (fake) benefits of his a-Moose-ing massage is that his "perfectly shaped hooves target the midsection to gently massage away stubborn belly fat."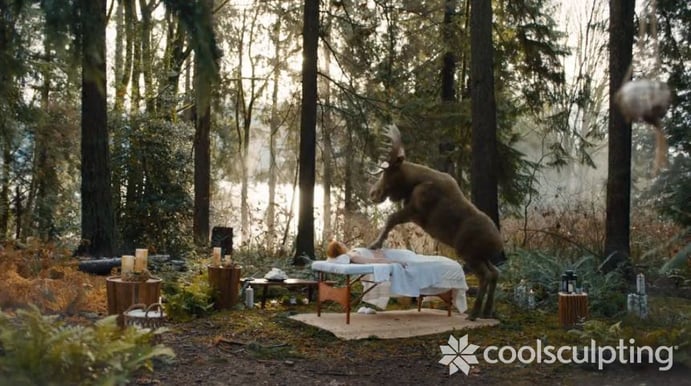 Who Saw It? Millions!
We augmented our efforts by making the joke as multi-dimensional and engaging as possible to create a memorable April Fools' prank. Millions of impressions were generated through:
A 15-second TV and online video spot
Active Social Media promotion
A functional "Moose Spa" website
PLUS! Key social media influencers to help spread the word about Moose Spa!
All elements of the campaign were carefully designed to eventually lead people to the real deal for nonsurgical fat reduction, FDA-cleared CoolSculpting® treatment. Plus, it kicked off our new #COOLnotcool TV commercial — which strategically starting airing the next day, April 2 — juxtaposing this Not Cool massage-by-moose with the COOL CoolSculpting® treatment. Watch the commercial, which follows on the success of our last national spot, "The Roasted Core Wrap."
Au Revoir, Moosy
It turns out ol' Moosy and his deep-woods massages were never real. Convincing people he actually was real, however, was a great way to demonstrate that many of us are willing to try all sorts of crazy ways to lose stubborn belly fat that are just Not Cool.
Can you relate? Share Not Cool, yet funny, ways you've tried or seen to get rid of stubborn belly fat. It's all happening on #COOLnotcool.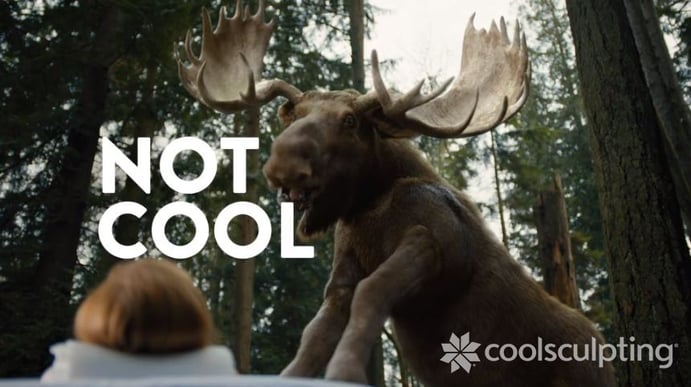 Did You Miss Our Joke?
You can relive the moment in the full recap video, below! Learn more about how we pulled off the "Moose Spa" prank.
Win a CoolSculpting® Treatment
If you think CoolSculpting® for stubborn fat sounds COOL, try your hand at winning a treatment! You can enter weekly from January 22, 2018 through October 28. 2018.* See sweepstakes terms and conditions for details.

*NO PURCHASE NECESSARY. Legal residents of the 50 United States (D.C.) 18 years and older. Ends 10/28/18. To enter and for Official Rules, including odds, and prize descriptions, http://www.coolsculptingsweeps.com. Void where prohibited.
¹CoolSculpting is the treatment doctors use most for non-invasive fat removal.