Johnny Weir Talks #COOLnotcool with Editors
Johnny Weir has been busy after his noteworthy coverage of the 2018 Winter Games in South Korea! What's he been up to? Helping us uncover all of the Not Cool and COOL ways to lose stubborn fat.
For his first post-Games public appearance, Johnny and CoolSculpting® hosted the media at Rockefeller Center in New York City. See what it was all about…
A COOL CoolSculpting® Experience
The event was focused on the COOL way to get rid of stubborn fat (hint: it's CoolSculpting®)…and even highlighted some of the not-so-cool ways many of us have tried.
The media learned about the science behind the FDA-cleared CoolSculpting®, they learned how the nonsurgical treatment safely works to treat stubborn areas of fat that are resistant to diet and exercise, and they heard about Johnny Weir's CoolSculpting® experience.
"Since I announced my partnership with CoolSculpting®, it's been a trip to see how many people are tuning in and asking me directly what it is, what it feels like, how it works ... and I'm so happy to tell them that it's awesome!"

Johnny Weir
BONUS! Ice Skating with Johnny
While learning about CoolSculpting® at the event, dozens of people – with varying degrees of ice skating ability – also joined Johnny on the rink! Johnny showed the media a thing or two about staying confident on the ice, shared a few pointers on perfecting a triple axel, indulged a few fans for selfies, and even challenged a CoolSculpting® team member to a friendly ice skating match (which he won, by the way). See some of the funny moments on ice…
What is CoolSculpting®
CoolSculpting® is the only FDA-cleared treatment that freezes and eliminates stubborn fat cells with little to no downtime. With millions of treatments performed worldwide, CoolSculpting® is proven to be a safe and effective solution for nonsurgical fat reduction.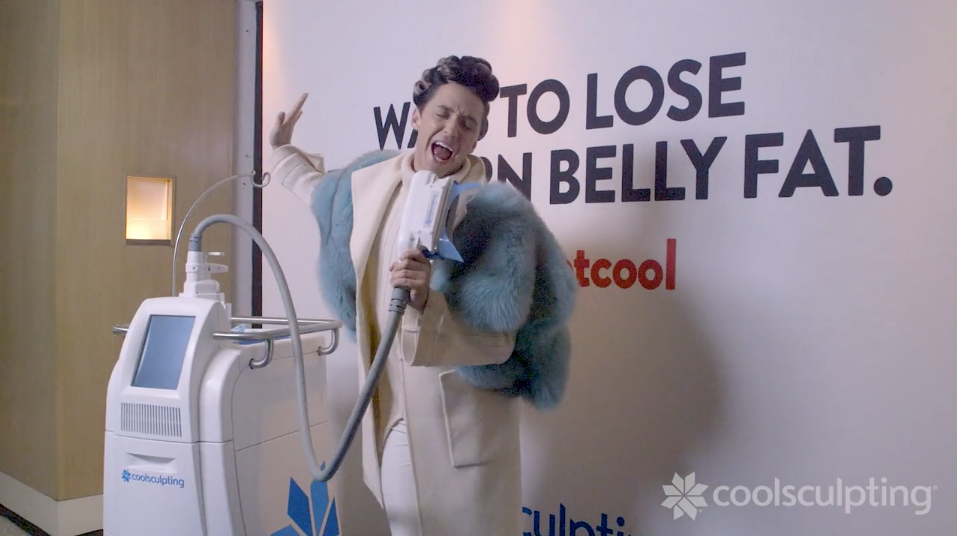 #COOLnotcool
Join the conversation! Share Not Cool, yet funny, ways you've tried or seen to get rid of stubborn belly fat (or other parts of your body) or even highlight your own COOL CoolSculpting® experience.
It's all happening on #COOLnotcool.
Ready to share right now?
Post #COOLnotcool on Instagram
Want to Win a CoolSculpting® Treatment?
If you think CoolSculpting® for stubborn fat sounds COOL, try your hand at winning a treatment! You can enter weekly from January 22, 2018 through October 28. 2018.* See sweepstakes terms and conditions for details.
*NO PURCHASE NECESSARY. Legal residents of the 50 United States (D.C.) 18 years and older. Ends 10/28/18. To enter and for Official Rules, including odds, and prize descriptions, http://www.coolsculptingsweeps.com. Void where prohibited.