CoolSculpting® hosted TV and film star Debra Messing, CoolSculpting executives, and renowned New York City dermatologist, Dr. Ellen Marmur, to "Break The Ice" about the fat freezing treatment during a panel discussion at New York City's ice bar, Minus5.
Thanks for reporting a problem. We'll attach technical data about this session to help us figure out the issue. Which of these best describes the problem?
Any other details or context?
message

"Break the Ice" Event Scoop
Each of CoolSculpting's "Break the Ice" panel speakers shared their own experience with CoolSculpting, the non-surgical body contouring treatment loved by celebrities and consumers alike.
"I am proud of my body and I work hard to maintain a healthy diet and an active lifestyle, but let's face it, everyone has those stubborn areas that resist all of your hard work," explained actress Debra Messing, the Global Brand Ambassador for CoolSculpting, during the panel discussion.
"For me, CoolSculpting has worked extremely well. I tell people it's my best discovery of the year. The treatment is non-surgical and has little to no downtime, which works for my busy lifestyle."

- Debra Messing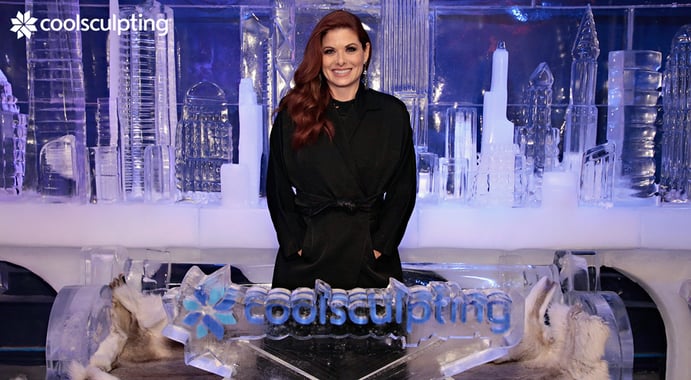 CoolSculpting Science: How Freezing Fat Works
Brad Hauser, Vice President, R&D and General Manager for CoolSculpting explained how the concept was first originated. "It was two forward-thinking scientists at Harvard University, Drs. Dieter Manstein and R. Rox Anderson, that began investigating cold-induced injury to fat cells after reading an early case report of popsicle panniculitis in the New England Journal of Medicine."
"It was observed that a child developed inflammation in the subcutaneous fat and a resulting dimple after having a popsicle rest on the inside of her cheek," Hauser explained."
"It was Drs. Manstein and Anderson's research that led to Cryolipolysis®, the now proven science behind more than 6 million CoolSculpting treatments, where cold targets and kills fat cells without damaging the skin or surrounding tissue."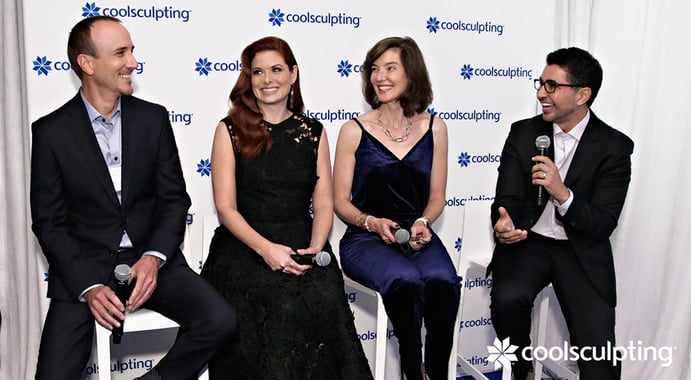 "Patients typically see a 20 – 25 percent reduction of fat cells in the treated area."

- Dr. Ellen Marmur
The Doctor's Opinion on CoolSculpting
Dr. Marmur shared some of the CoolSculpting results she's seen with patients.
"CoolSculpting is a great option, given its short treatment time of 35 minutes, FDA-clearance on multiple body parts and the ability to treat multiple areas at once to maximize my patients' time in the office."
"Both female and male patients are interested in CoolSculpting and the aesthetics field in general is experiencing an increase in men seeking treatments, especially non-invasive fat reduction like CoolSculpting."
Debra Messing's CoolSculpting results have positively impacted her in numerous ways. Debra feels a difference in the way her clothes fit; plus, she's experienced an extra boost of confidence.
What is CoolSculpting?
CoolSculpting is the world's #1 non-invasive fat reduction treatment* and clinically proven to be a safe and effective way to reduce unwanted fat. Results may be seen as early as three weeks, with the most dramatic results observed 1-3 months after treatment.
With a patented built-in safety feature, CoolSculpting is the only cold-based, non-surgical body contouring treatment cleared by the Food and Drug Administration.
With little to no down time, it's easy to see why more than five million CoolSculpting treatments have been performed in more than 80 countries worldwide.
To find out if CoolSculpting is right for you, use the Online Locator to find the nearest CoolSculpting Physican for a consultation.