Cool moments can be big or small – a birthday ending in zero, a wedding, or even a high school reunion – and everyone encounters them.
As a red carpet regular, Debra Messing has two tips for looking great on any red carpet…and they both involve treating yourself!
Debra's Key Tips for being Red Carpet Ready
Regular Facials: This pamper session is essential for Debra leading up to a big moment, especially if it involves being photographed.


Body Contouring: For feeling comfortable in form-fitting dresses, Debra does body contouring using the CoolSculpting® treatment at least a month before a big event. The treatment helps to reduce bugles in areas with stubborn fat that is resistant to her healthy lifestyle.
Speaking of sitting back and relaxing….the latest body contouring technology of CoolSculpting can treat a patient in as little as 35 minutes. Some practices even have multiple CoolSculpting systems, so it's possible to have multiple areas treated at once!

"If there's any particular part of my body that is feeling a little bit bulge-y, the best scenario is to go in and have a CoolSculpting treatment."

-Debra Messing
Live Life to the Fullest
Like so many of us, Debra wants to feel like her best self, no matter the occasion. Your red carpet moment might not actually be walking an awards show red carpet; your moment may be looking fantastic in your dress at your best friend's wedding, which is just as important.
Feeling comfortable in your clothes can improve your confidence to take on that big board meeting at work and show the world your best self.
The CoolSculpting fat-freezing treatment is the only FDA-cleared fat-reduction treatment that uses controlled cooling to eliminate stubborn fat. The results are proven, noticeable and lasting—so you'll look great from every angle.
Lights, Camera, Action
Debra Messing experienced a difference with CoolSculpting — the FDA-cleared, non-invasive treatment helped her achieve her body contouring goal by freezing her unwanted fat away with no surgery and little to no downtime — because, after her treatment, she and others around her noticed a change.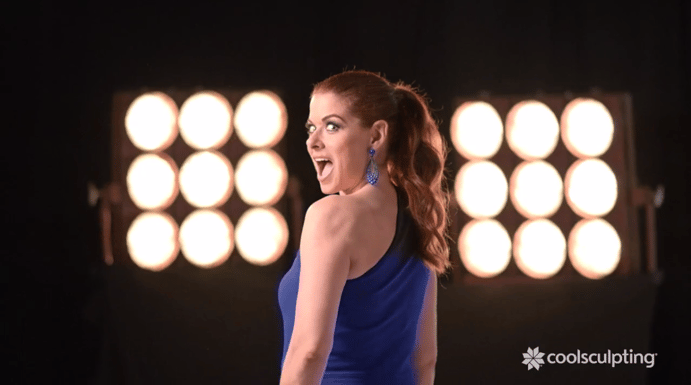 As Debra says, it's an incredible feeling when someone tells you, "You look incredible, and I can see a difference!"
The CoolSculpting treatment can help both women and men get rid of those stubborn bulges for good. The safe, non-invasive treatment works on reducing those pesky love handles that nobody really loves and even that double chin you see in the mirror every morning.
(Poll) What's your secret to preparing for a big event?
Your Body Contouring Journey Can Begin Today!
People may start to see changes as quickly as three weeks after your treatment, and typically experience the most noticeable results after two months. Your body will still continue to flush out fat cells for up to four to six months after treatment.
So, don't wait another day to begin your body contouring journey! CoolSculpting could be the perfect solution to help prepare you for your next Cool Moment. Debra confirms, "It's kind of a miraculous thing."
Are you ready for your next Cool Moment? Don't let stubborn bulges stop you from experiencing life to the fullest – find out if you're CoolSculpting candidate in less than a minute!