As an actress with a demanding schedule, Debra Messing finds the time to create balance in her daily routine. A healthy diet, spending time with loved ones, and keeping up with a robust filming schedule is a lot to maintain – and everyone needs a little help sometimes.
That's why Debra loves CoolSculpting®, because with treatment times as little as 35 minutes per treated area, she can reduce stubborn bulges that are resistant to her healthy lifestyle.
Personalized Approach To CoolSculpting Treatment
To learn more about CoolSculpting and the treatment process, Debra met with a CoolSculpting clinician for a one-on-one consultation.
Debra and her CoolSculpting clinician spent time and discussed a holistic approach to her specific goals for reshaping her body. Together, they looked at her whole body from different angles, and then focused on specific areas where she wanted to eliminate fat.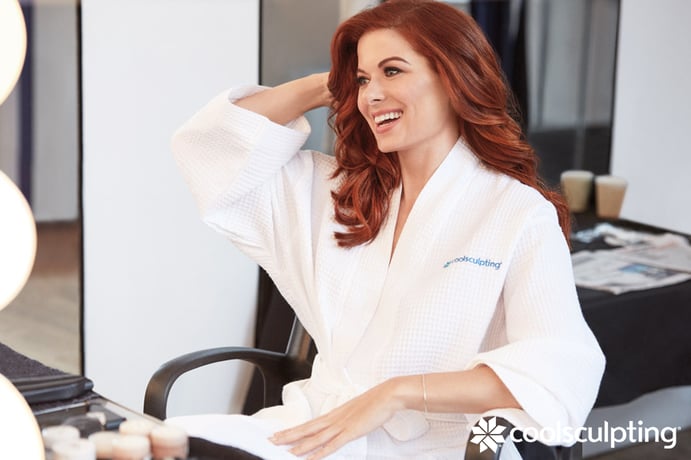 For some people, a customized treatment plan may include more than one CoolSculpting treatment. For example, you may want to freeze away fat from your inner thighs — and also get rid of that muffin top.
Some practices even have multiple CoolSculpting systems and can treat different body areas at the same time. And, even when treating multiple areas of the body, the experience remains the same. Though Debra was told ahead of time that the treatment was easy and had little to no discomfort, she had a hard time accepting it was that simple. It wasn't until she went in and fell asleep during her treatment, that she believed you can have "something like this" done and be that comfortable.
"Wow, my CoolSculpting experience was shockingly comfortable!"
- Debra Messing
Weight Loss vs Fat Loss
Did you know that the number of fat cells in our bodies typically becomes a fixed number sometime in our teenage years? Losing or gaining weight generally does not increase or decrease the number of fat cells.
CoolSculpting works because fat cells that are frozen during the CoolSculpting process gradually leave the body through the body's natural elimination process.
With weight loss, the size of fat cells simply change. With CoolSculpting, 20%-25% of treated fat cells die off and are eliminated.
After many years of research, you can feel confident that the CoolSculpting treatment is safe and based on sound science. Leading researchers and doctors have published more than 100 clinical publications on the FDA-cleared fat reduction treatment.
Would You Rather Freeze or Heat Your Fat Away?
The Next Step
Interested to see if you're a candidate for the CoolSculpting treatment? Take this easy quiz which can help determine if CoolSculpting is right for you. From there, you can find a CoolSculpting provider in your area.
You can meet with a CoolSculpting clinician that will work with you on the best treatment plan tailored to your needs. It may take as little as one office visit to achieve your goals. Your clinician can design a treatment plan that can help give you your desired results.
You're only a few clicks away from getting rid of those stubborn bulges for good! Talk to a specialist to learn what to expect from the CoolSculpting consultation and treatment process.