Stubborn belly fat that won't go away with diet and exercise? Not Cool. Going to extremes – even using ridiculous devices or strange "remedies" – to reduce stubborn belly fat? Really Not Cool. Freezing away fat cells with no surgery and little to no downtime with the FDA-cleared CoolSculpting®? Now, that's COOL!
This concept of "Not Cool vs. COOL" ways to get rid of stubborn belly fat is the foundation of the newest campaign for CoolSculpting. Hear the details of how it came to life…
"Not Cool vs. COOL" CoolSculpting Campaign
Through our research and interviews with real women and men, we uncovered that so many of us have tried extreme and bizarre ways to lose stubborn pockets of fat. We heard people loud and clear that often fad diets don't last, ridiculous gimmicks don't work, and strange devices don't deliver results. All of these approaches are Not Cool.
What is COOL is CoolSculpting, a safe and effective treatment to reduce stubborn pockets of fat...anchored by science developed by Harvard scientists.
Making #COOLnotcool Come to Life
To juxtapose Not Cool with COOL ways to lose stubborn belly fat, we're taking a light-hearted approach and starting a movement around #COOLnotcool. You'll see us feature outrageous, fad-like scenarios set in fiction that are Not Cool followed by the non-surgical, COOL way for fat reduction, FDA-cleared CoolSculpting. Check out our first broadcast commercial...
This first "Not Cool vs. COOL" video features a woman trying to rid herself of stubborn belly fat via an outlandish "roasted core wrap" approach. You'll see more of these off-the-wall, Not Cool ways to get rid of diet-resistant, stubborn belly fat featured throughout the year…perhaps even a 1,500-pound moose masseuse (say what?!!?).
CoolSculpting for Men = Hole in One
The "Not Cool vs. COOL" campaign isn't just focused on women. This year, we're on a mission to get the word out that CoolSculpting can also help men get rid of stubborn belly fat. What's even COOLer? As part of our new partnership with professional golfer, Ian Poulter, he is wearing a CoolSculpting-branded polo on tour this golf season to make it happen! See how COOL he looks in his new gear…
If you spot Ian Poulter on tour sporting the CoolSculpting logo on his game-day polo, take a picture and tag #CoolSculpting on social media. Plus, stay tuned to see how he addresses "Not Cool vs. COOL" for men!
Things are Getting COOL
2018 is the year of COOL! Through funny video spots, Ian Poulter's presence at professional golf tournaments nationwide, and blog coverage featuring Johnny Weir, we are getting the word out to women – and men – about "NOT Cool vs. COOL" ways to get rid of stubborn fat…and that CoolSculpting is the COOL solution.
Be on the lookout for our "Not Cool vs. COOL" content across TV, print, digital, and social channels.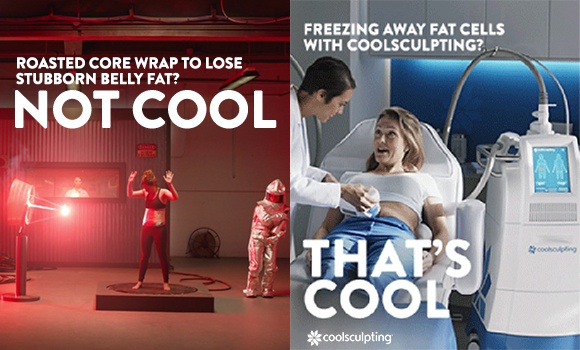 Spread the Word!
We'd love for you to join the conversation! Share Not Cool, yet funny, ways you've tried or seen to get rid of stubborn belly fat (or other parts of your body) or even highlight your own COOL CoolSculpting experience.
It's all happening on #COOLnotcool.
Ready to share right now?
Post #COOLnotcool on Instagram
What is CoolSculpting?
CoolSculpting is the only FDA-cleared treatment that freezes and eliminates stubborn fat cells with little to no downtime. With millions of treatments performed worldwide, CoolSculpting is proven to be a safe and effective solution for non-surgical fat reduction.
Want to Win a CoolSculpting Treatment?
If you think CoolSculpting for stubborn fat sounds COOL, try your hand at winning a treatment! You can enter weekly from January 22, 2018 through October 28. 2018.* See sweepstakes terms and conditions for details.

*NO PURCHASE NECESSARY. Legal residents of the 50 United States (D.C.) 18 years and older. Ends 10/28/18. To enter and for Official Rules, including odds, and prize descriptions, http://www.coolsculptingsweeps.com. Void where prohibited.