Not Cool.
You've tried hard to get rid of stubborn fat in your mid-section, but for whatever reason, it insists on sticking around. Not Cool.
To what lengths would you go to get rid of stubborn fat in your mid-section? Would you simply hide it with bigger, baggier clothes? Maybe you would hit the gym even harder – up the weight, up the reps, up the frequency. Or maybe, you'd just embrace that stubborn fat and leave it be? Many times, regardless of our initial decision, we begin to test our own resolve and step into the realm of wild, crazy, and absurd ways to get rid of that stubborn fat.
Very. Not. Cool.
Is Getting a Massage from a Moose for Real?
Nope. It's 100% fake!
But, what if people thought this Moose Spa experience to blast belly fat away was actually real? Would they consider it? We thought, yes!
So... we put our hypothesis to the test.
On April 1st — April Fools' Day — we launched a moose-sized practical joke and flooded the internet, social media, and network television with a 15-second commercial directing people to schedule a fat-reducing massage — performed by a 1,200-pound moose — on MooseSpa.com!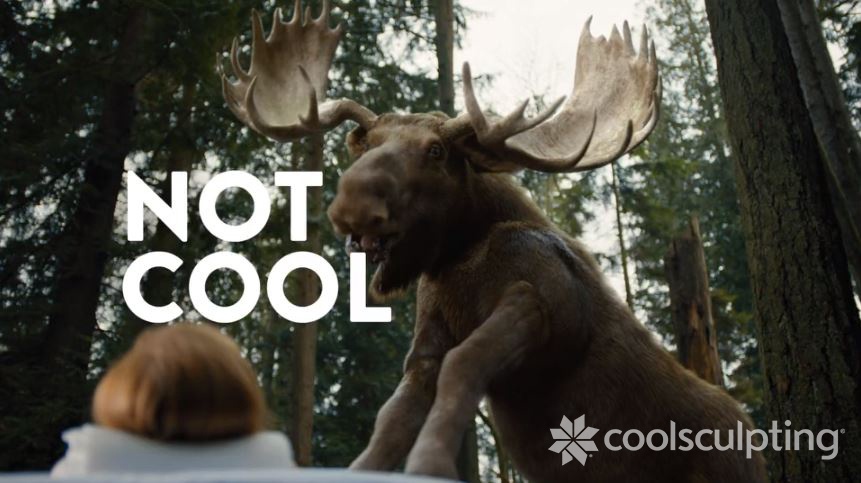 Convincing a lot of people — millions! — that getting a fat reduction massage from ol' Moosy was legit demonstrated that many of us are willing to try crazy ways to lose stubborn belly fat. And, it inspired our newest #COOLnotcool TV commercial, juxtaposing the Not Cool fat-loss "miracle" known as "The Northern Percussion Massage" with the COOL, FDA-cleared solution for nonsurgical fat reduction, CoolSculpting®.
You can read more about our April Fools' joke and watch the fake video here.
More Moose Shenanigans?!
Leaving the direction of a CoolSculpting TV commercial to a moose can also be Not Cool. Check out the behind-the-scenes action our camera crew captured... It's quite a-Moose-ing!
CoolSculpting! That's COOL!
CoolSculpting® is the only FDA-cleared treatment that gently freezes away fat cells and requires little to no downtime. Now, that's COOL!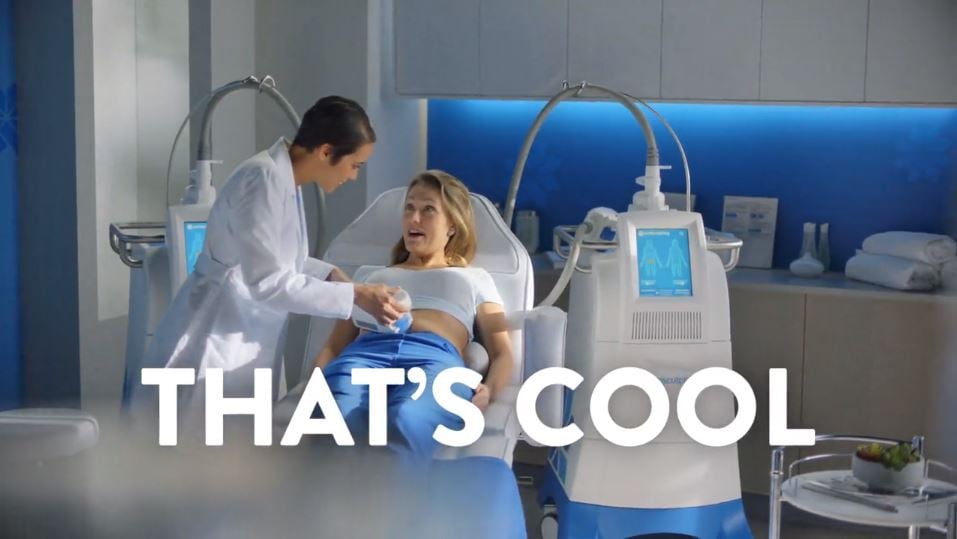 Why is CoolSculpting® the COOL Solution?
CoolSculpting® is the #1 most performed nonsurgical body sculpting procedure¹.
With the millions of treatments performed worldwide, FDA clearance, and advanced technology that has been analyzed in controlled clinical studies and described in more than 100 peer-reviewed publications, CoolSculpting is a safe and effective way to get rid of stubborn fat with no surgery and with little to no downtime.
Join the #COOLnotcool Conversation!
Share Not Cool, yet funny, ways you've tried or seen to get rid of stubborn belly fat (or other parts of your body) or even highlight your own COOL CoolSculpting® experience.
It's all happening on #COOLnotcool.
SHARE RIGHT NOW!
Post #COOLnotcool on Instagram
Win a CoolSculpting® Treatment
If you think CoolSculpting® for stubborn fat sounds COOL, try your hand at winning a treatment! You can enter weekly from January 22, 2018 through October 28. 2018.* See sweepstakes terms and conditions for details.

*NO PURCHASE NECESSARY. Legal residents of the 50 United States (D.C.) 18 years and older. Ends 10/28/18. To enter and for Official Rules, including odds, and prize descriptions, http://www.coolsculptingsweeps.com. Void where prohibited.
¹CoolSculpting is the treatment doctors use most for non-invasive fat removal.