Designed by Harvard scientists, CoolSculpting® is a safe and effective way to eliminate unwanted fat. Celebrity facial plastic surgeon, Dr. Paul Nassif, takes us on a COOL journey by treating a male and female patient live with CoolSculpting. Want to know, "how does CoolSculpting work?" Dr. Nassif and his team will tell you!
So, why did Dr. Paul Nassif, a #CoolSculptingPro, bring CoolSculpting into his practice? His patients were looking for an alternative to liposuction for treating areas with stubborn fat! During the LIVE broadcast with Dr. Paul Nassif on January 4th, we received hundreds of questions about the CoolSculpting treatment. Check out some of the most frequently asked questions answered by Dr. Nassif himself!
Am I A Good CoolSculpting Candidate?
A good candidate is someone who is in good health, eats well and exercises regularly, but has one or more areas of stubborn fat that won't seem to go away. Specifically designed to treat subcutaneous fat, which is fat you can pull or grab, CoolSculpting can treat areas that display this type of fat. CoolSculpting patients can be either male or female, as long as they have realistic expectations and goals. Dr. Nassif emphasizes that it is important for patients to realize that CoolSculpting is not a substitution for weight loss. Non-surgical CoolSculpting reduces the number of fat cells in the treated area, whereas losing weight reduces the size of fat cells. CoolSculpting = fewer fat cells. Weight loss = smaller fat cells.
"CoolSculpting is not a substitute for weight loss. Instead, the results are a reduction in fat cells and a more contoured body."

- Dr. Paul Nassif on weight loss versus fat reduction
What Can I Expect During a CoolSculpting Treatment?
Once a patient has been assessed, marking the peak areas of fat and applying a protective pad to the skin, the device is applied to the marked areas for treatment. After the cooling device is applied, the patient experiences a gentle suction to the skin, almost like a vacuum. Initially the skin becomes cold, but after a few minutes, the treatment area becomes completely numb. The CoolSculpting device does not affect the skin because the device is designed to target and freeze fat cells only. After the 35-minute procedure, a massage is performed on the treated area to break up the cold subcutaneous fat. The massage is an extremely important part of the procedure to initiate the breakdown of the fat cells. Dr. Nassif states that he has seen more than a 65% improvement in patient results after the addition of the massage to the treatment.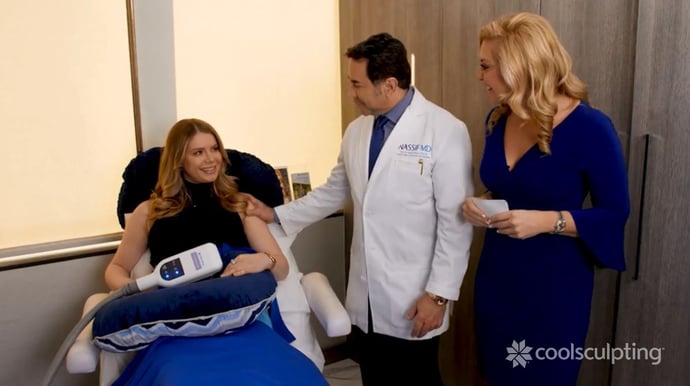 How Does CoolSculpting Work?
CoolSculpting works by a process called cryolipolysis, or freezing of the fat cells. As the fat cells freeze, they go through a process called apoptosis, or cell death, and then are naturally eliminated from the body over a period of a few months. When you gain weight the fat cells in your body get larger, and when you lose weight, the fat cells shrink. Instead of shrinking the fat cells, CoolSculpting is effective at removing the fat cells from the body altogether, resulting in a 20% - 25% fat reduction in the treated area.
What is Treatment-to-Transformation?
Dr. Paul Nassif explains the treatment-to-transformation process as the patient's optimal end result. This is a critical part of a CoolSculpting journey, as patients benefit from more than one treatment in more than one area. During the assessment, Dr. Paul Nassif explains that some areas may need a second treatment based on the volume of fat, reinforcing the treatment-to-transformation process. Six to eight weeks after the initial treatment, a re-evaluation will occur to determine if a second treatment is still the necessary course of action to achieving the patient's desired transformation.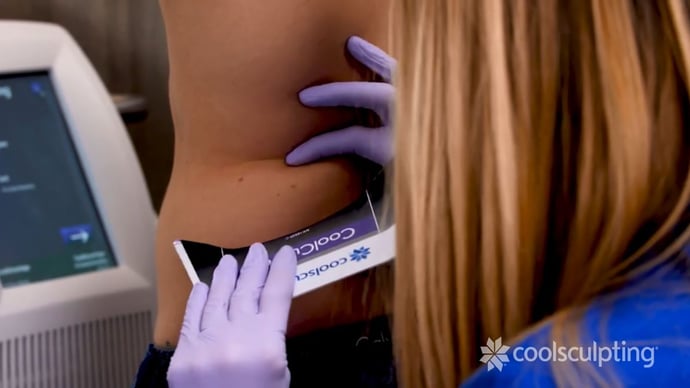 When Will I See Results After a CoolSculpting Treatment?
After receiving CoolSculpting in one or more of the FDA-cleared treatment areas, Dr. Nassif tells his patients to expect a gradual reduction in the size of the treated area over a 90 day period. Some patients may even see a continued reduction up to six months post-treatment.
Can Men and Women be Treated in the Same Areas with CoolSculpting?
Absolutely! CoolSculpting is for both men and women. In fact, it is FDA-cleared to treat 9 different areas. The areas that can be treated by CoolSculpting are under the chin, below the jawline, upper arms, bra fat, back fat, underneath the buttocks, abdomen, flanks, and thighs.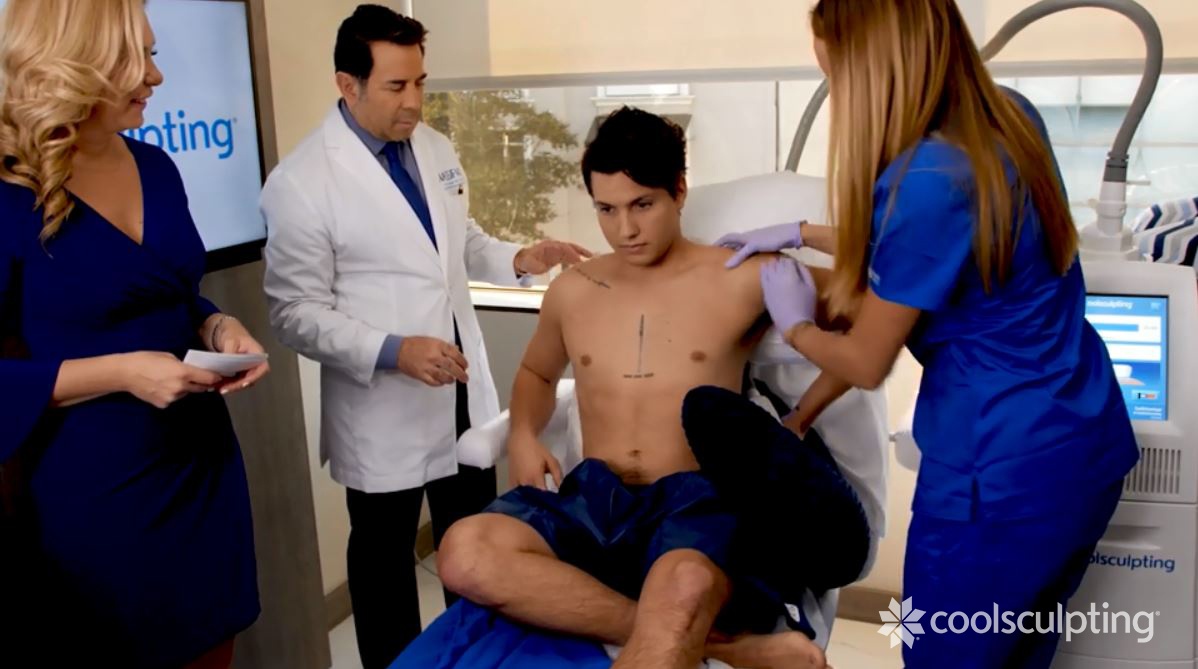 "CoolSculpting is FDA-cleared to treat 9 different treatment areas."

- Dr. Paul Nassif
How Much Does CoolSculpting Cost and Can it be Covered by Insurance?
Since the treatment is personalized for each patient, the cost of CoolSculpting varies based on the patient and their goals. Find out the price of CoolSculpting on our blog post, "How much does CoolSculpting cost?" Because CoolSculpting is an elective cosmetic procedure, it's typically not covered by insurance companies. To determine the cost of treatment, it is best to get an assessment by a CoolSculpting provider. You can find one, here!
If I Have a Medical Condition, Can I Still Have a CoolSculpting Treatment?
This is where the importance of the assessment, or consultation, comes into play. The patient should give a thorough medical history to the physician, so they can fully assess if they are a good candidate. If the patient has a serious medical condition, it is recommended that they contact their primary physician to determine if the procedure is safe for them.
The Next Step in Your CoolSculpting Journey
Now that you have seen a man and woman treated with a CoolSculpting treatment, you should feel confident in answering, "how does CoolSculpting work." Are you ready to find out if you are a good candidate for the treatment? Take this short quiz to help determine if CoolSculpting is right for you.
Next, you'll want to meet with a CoolSculpting clinician in your area to come up with your complete treatment plan. With this unique treatment plan, you'll be one step closer to achieving your body sculpting goals. With the assessment out of the way and treatment plan established, you can set up an appointment for treatment, so you can kiss those pesky bulges goodbye!